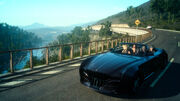 The Regalia is a car that is the player's principal method of long-distance transportation. The license plate on the back says RHS-113.
Modes
The Regalia can be operated in Auto or Manual mode.
Auto
With Auto mode, Ignis controls the car. This mode can only be operated during daylight hours until Noctis reaches level 30. Until then, at night Noctis takes the wheel in manual mode since daemons are out.
Manual
With Manual mode, the player controls the car through Noctis. The controls are as follows:
| PlayStation 4 | Xbox One | Action |
| --- | --- | --- |
| | | Steer |
| | | Accelerate |
| | | Brake or reverse |
| | | U-turn |
| | | Hold to hop out |
Fuel
The fuel gauge in the bottom-left corner of the screen should be checked regularly. It is recommended to refuel whenever the player comes across a gas pump. If the car runs out of gas, the player will need to push it to the next gas station, or pay Cindy to tow it back to the Hammerhead garage through the map option.
Skins
There are four skins, also known as recolors or decal sets, available for the Regalia by pre-ordering Final Fantasy XV and ?? additional skins available for purchase throughout the world:

Pre-order bonuses
Cindymobile

- Show your appreciation for Hammerhead's mighty fine mechanic with this custom coloring.
Gold Chocobo - Let your wheels run wild and free by gilding your ride in homage to the rarest breed of bird. It is obtained by pre-ordering through Amazon.

16-Bit Buddies

- Ride into retro style by tricking out the Regalia with this exclusive pixel art decal of Noctis and his buddies.
Platinum Leviathan - Make the waves wherever you go by detailing the Regalia with this sleek serpentine finish. Included as part of the Deluxe Edition.
Additional skins
Shop
Items can be purchased digitally through the Regalia's store:
Achievements and trophies
The following achievements and trophies are related to the Regalia:
Trivia
Gallery
See also